Over the last month, I have been through absolute hell regarding the CV joints and driveshafts for my build thanks to a Durban CV joint company called "Natal CV Joints". To date, the issue is still not 100% sorted so here is my story. There are two companies involved namely "Natal CV Joints" (who I will refer to as company A) and "CV Joint Specialists" (who will be referred to as company B). So let's start from the beginning and I will try keep this as brief as possible.
First off, my driveshafts were sourced about 2 years before the build started. They came from a hatch 200i that a forum member was stripping in JHB. I also got the crossmember from this car which is on my car right now. So about a month ago when I got to the stage of the build where it was time to fit the drive shafts, I needed to get my hands on all the joints required (2 x inners and 2 x outers). This is when I did some searching in Pinetown and firstly came across company A where I met the owner Nolan. He seemed like a great, friendly guy and was more than happy to help me out. About a month ago I dropped the shafts off and this is what went down..
The day I dropped the shafts off, the owner Nolan wasn't there – his absence from the premises is something that I began to notice very quickly. His young apprentice ensured me they knew exactly what to do, so my attempt to explain which shafts goes where (there is a short, long and intermediate shaft) was deemed unnecessary. When I got home, I decided to email Nolan a copy of the shaft layout from the workshop manual to his email address included on his business card. I had previously spoken to Nolan as well as this apprentice, to get acquainted with the shafts and then call me with what options I have for CV joints and prices, and I will be doing the same with Mazda and the local spare shops. However, the next morning I got a call from company A telling me that my shafts are ready for collection!
Now confused as to why my shafts are already ready, I asked what the cost was and they replied with R3000 – this made me almost fall off the chair and hang up on them. I later got a hold of Nolan and told him there is no way I can afford this, and to remove these joints as I will be providing my own (which I sourced from a spare shop for R1000). I arrived at company A with the new joints, and this is when Nolan did something really nice for me. He said I should give him R500 for labour as well as these new CV joints I just bought as stock, and I can keep these expensive joints he has already put on the shafts. I was more than happy with this deal, and went home happily with my complete shafts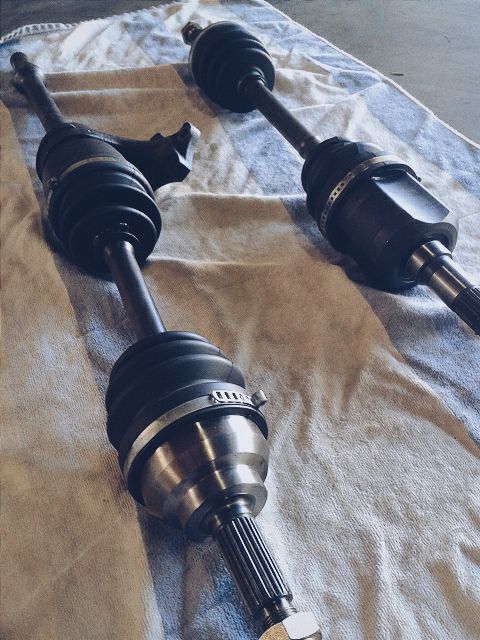 Assuming everything was perfect, I started fitting the driveshafts as soon as I got home and quickly realised there were already problems. I had started on the passenger side and after clipping the shaft into the gearbox, I could tell the shaft was looking way too long. This was due to the long shaft being on its own, when it should be on the driver's side with the intermediate shaft, and the short shaft should be on its own. So despite my incessant instructions of how the shafts are meant to go and even emailing the diagram from the workshop manual, they have been done incorrectly. Now not having a chisel to remove the shaft from the gearbox, I had to drive back to the company to pick up one of their staff members to remove the shaft, and then take them back so they can correct the CV joints for me.
After waiting about 30min, I was now on my way home with the shafts finally 100% correct. From this point, I thought my troubles were over. The driveshafts were in and fitment was perfect, this was good news and I could carry on with my build. I spent the next week sorting out my clutch and other small jobs, and it was now time to drive the car around the garden and allow it to move under its own power.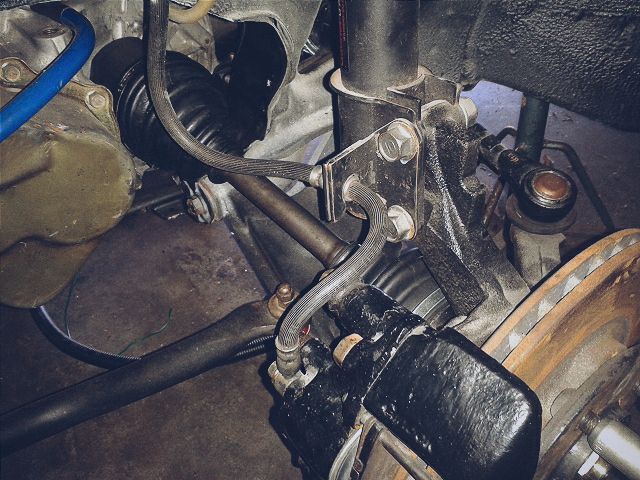 After driving the car for about 15m, disaster struck. All of a sudden I could not pull off and there was a grinding noise – instantly making me think the imported gearbox is stuffed! I wasted no time and quickly got the car back in the garage and up on stands so I could inspect the situation. The issue was instantly found as it was staring me in the face..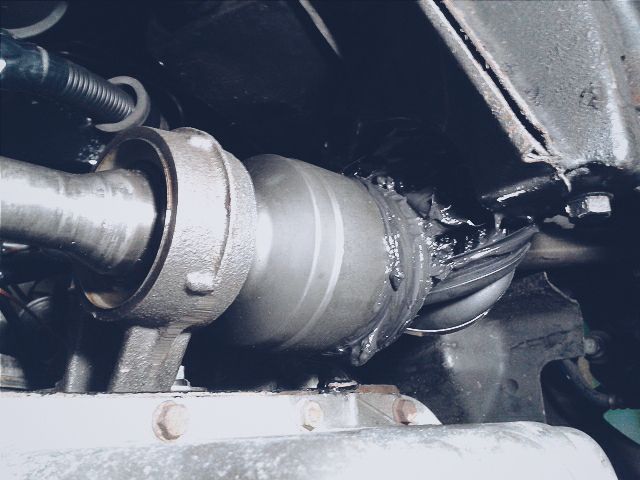 Not only was the inner CV boot (drivers side where it connects to the intermediate shaft) pulled off the cup, the shaft was turning inside the CV joint cage!!! I couldn't believe my eyes and was absolutely furious. I quickly removed the shaft and made my way down to company A where they provided me with no explanation, but got the joint back together and the shaft once again looked complete. However, this is where the real ***CENSORED*** started. Assuming there was something minorly wrong with the CV joint causing it to malfunction such as a clip missing etc, I quickly started to get the shaft back in so I could drive the car again. But I soon realised a serious issue: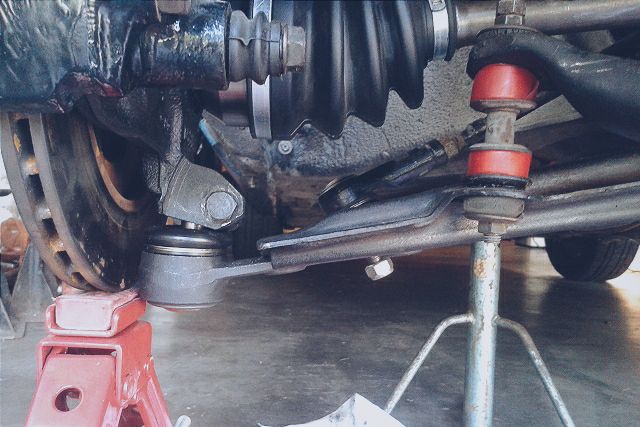 All of a sudden my driveshaft that was 100% perfect that morning, has now spontaneously grown 1cm and the ball joint bolts were no longer lining up with the holes in the control arm. After fiddling for the rest of the day as well as calling my mechanic to come check it out and ensure I was fitting it correctly, there was no chance the shaft would fit. The next morning I made my way to company A AGAIN to get to the bottom of this issue, expecting a joint to be incorrectly fitted or possibly my shaft got mixed up with another car accidently. However, Nolan could offer no explanation to what has happened. He even went as far to assume that I don't know how to fit a driveshaft and therefore I had to take one of his staff members back to my house to fit the shaft. No surprise here when the staff member couldn't fit the shaft and I then had to take him back to the workshop.
Completely fed up, I then went to company B as recommended by my mechanic. When walking into their premises and explaining my situation, one of their staff members (with 20+ years of experience) could instantly tell me that what I am holding is certainly not a Mazda 323 2L shaft. He then went into his back room and dug through his collection of shafts and brought out the correct shaft I needed (which is impressive seeing how rare these shafts are). Sick of all these headaches and just wanting to drive my car, I gave company B the go ahead to fit my CV joints to this new shaft of theirs as they guaranteed me it was correct. After about 5 minutes into the job, I was made aware that the inner CV joint provided by company A is incorrect as it is for a 626 and has one extra thread inside (which would be the reason to my shaft turning inside this joint previously) and that the shaft that was once perfect, is now A TOYOTA CAMRY SHAFT!! So therefore I now have a new shaft and inner CV joint and this is going to cost me a further R1000. Being the awesome group of people they are at company B, they were more than happy to allow me to take the shaft home to try out before paying. The end result being that this new shaft and cv fitted perfectly and the car is driving no problem.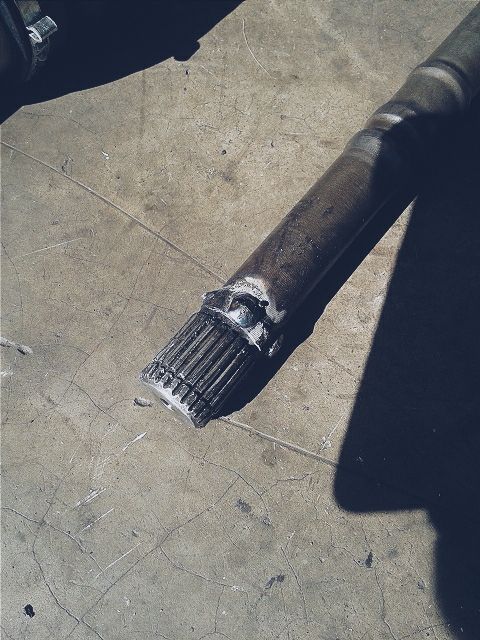 The Camry shaft with welds on. My shaft never had welds on and both companies stated they never put any weld on my shafts
So now comes the issue of being supplied an incorrect inner CV joint, the transformation of my Mazda shaft into a freaking Camry shaft and not to mention at least 10 trips to company A (which is about 15min away). So three days ago I made yet another trip to company A to speak to Nolan, and showed him the invoice from company B (which included a letter from them stating I came to them with the incorrect parts) as well as my payment to them of R1000. Being the understanding person I am, I told Nolan I am happy to cover R350 of this debt and he can give me R650 so that we can finally call it quits to this nightmare. Nolan agreed to this but made it clear he currently has no money on him (hard to believe a registered company operates off its daily takings only?) and will call me as soon as he has the R650 available.
It is now Friday and I have not heard a word from Nolan. Lol
Company A – The enemies
Natal CV Joints Fit & Go
55 Henwood Road, Pinetown
031 705 2222
http://www.natalcvjoints.co.za
nolaneikenaar@yahoo.co.uk
(despite advertising an email address, they apparently have no access to it)
Company B – The Saviours

CV Joint Specialists
143 Crompton Street, Pinetown
031 701 7587
admin@cvjointspecialists.co.za
(these guys have a full functioning email address that they know how to use – the way a company should be run)
Ok that was a lot of typing, but thank you for reading until the end